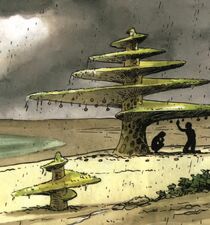 The Unfamiliar Plants are mysterious plants that are seen growing on the beaches of Aldebaran-4. Kim Keller and Mark Sorensen hadn't encountered this type of plant previously, but used one for shelter during the rain, it apparently has delicious fruit.
Ad blocker interference detected!
Wikia is a free-to-use site that makes money from advertising. We have a modified experience for viewers using ad blockers

Wikia is not accessible if you've made further modifications. Remove the custom ad blocker rule(s) and the page will load as expected.